31-year-old Kirsty decided to seek help and go through weight loss surgery due to infertility problems arising from being overweight, her body mass index before surgery was 44.5 kg/m2. A body mass index above 40 kg / m2 indicates obesity, which is a health hazard. The most well-known health problems caused by obesity are type II diabetes, hypertension, sleep apnoea, osteoarthritis, post-myocardial infarction, PCOS and female infertility.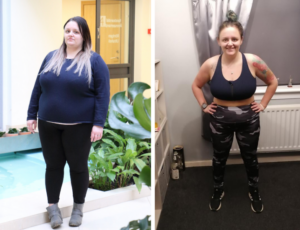 Kirsty opted for gastric sleeve surgery that took place in February 2020. In one year, she has lost 33 kg or 1/3 of her weight. Her initial weight was 100 kg and height 150 cm. Her body mass index has decreased from 44.4 to 30, which should significantly increase her chances of getting pregnant naturally, as well as the percentage of successful fertility treatment, should she need it.
Before planning to become pregnant, it is advisable to wait until your body weight has stabilised, which usually happens between 12 and 18 months.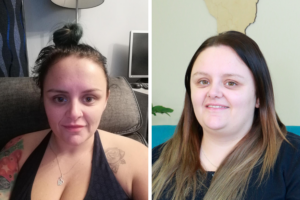 More about gastric sleeve surgery
Although the primary recommendation for people with body mass index over 40 is gastric bypass surgery, which allows for greater and more permanent weight loss in the case of a higher body mass index, the advantage of gastric sleeve surgery is the fact that food's pathway through the gastrointestinal tract does not change and most of the necessary vitamins and minerals are absorbed from the daily diet even after the operation. Therefore, gastric sleeve surgery is a good choice for a young woman who is planning pregnancy in the future. There is certainly less anaemia and hypovitaminosis after gastric sleeve surgery (also during pregnancy), while long-term weight loss is somewhat less with gastric sleeve than with bypass surgery, especially with a higher body mass index (BMI over 40 kg / m2).
NB! However, vitamin replacement therapy is recommended after all bariatric surgeries.
During gastric sleeve surgery the volume of the stomach is reduced approximately 10 times (150 ml remains instead of 1500 ml). Food's pathway in the gastrointestinal tract does not change. As a result of the operation, the amount of food consumed and the feeling of hunger are reduced, as the part of the stomach that produces the hunger hormone ghrelin has been removed.
If you have a certain plan to become pregnant after weight loss surgery, the choice of the type of surgery must be decided in cooperation with the surgeon. The choice depends on how much weight needs to be lost as well as on your comorbidities.
Pros and cons of gastric sleeve surgery compared to bypass surgeries.
As food still passes through all parts of the gastrointestinal tract, possible deficiencies in vitamins and minerals are less manifested, but certainly not ruled out.
Unlike standard bypass surgery, studies have not shown that sleeve increases the risk of alcoholism in operated patients.
It is less likely to develop dumping syndrome and there is no risk of internal bowel obstruction, which affects about 1-2% of bypass patients.
The most common possible problem after a sleeve is the development of heartburn or reflux, as well as the continuation of pre-operative reflux. According to various studies, 20-40% of sleeve patients need treatment from time to time or continuously due to reflux and 5-10% need new surgery for the same reason.
Long-term weight loss is less than with bypass surgery, especially with a higher body mass index (BMI over 40 kg/m2).
The likelihood of relief or recovery from underlying type II diabetes after sleeve is slightly lower (40-50%) than with standard bypass (60%) or mini bypass (80%).
There are no significant differences in dyslipidaemia (elevated cholesterol and triglycerides in the blood), high blood pressure, joint or back pain relief.
Gastric sleeve surgery is suitable for patients:
who do not have GERD (reflux disease)
who are not passionate sweet tooths
whose problem is large amounts of food rather than bad food choices (too much sweet and fatty food)
who train regularly and whose BMI is less than 40 kg/m2
who smoke and use painkillers at the same time, as this combination increases the risk of ulceration after bypass surgery
whose alcohol consumption is moderate
Gastric sleeve surgery could also be considered by patients with a pre-existing iron deficiency anaemia, as gastric bypass surgeries exacerbate this more than sleeve.
Sometimes, in the case of many previous abdominal surgeries, the sleeve may be the only bariatric surgery that can be performed due to adhesions.